18.11.2021
Rengalin and Ergoferon praised as Products of the Year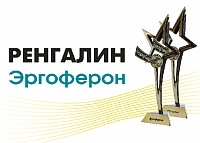 Two drugs developed by Materia Medica Holding at once became laureates of the prestigious Product of the Year 2021 Award. Rengalin won in the nomination "Consumer Trust" in the category "drugs used in the treatment of dry and wet cough", and Ergoferon was awarded the title of the best in the nomination "Choice of specialists and consumers in the category" Antiviral drugs for ARVI and influenza".

The award ceremony took place on November 17 at the Mir Concert Hall. The Product of the Year Award was established in 1999 by the National Trade Association.
The main criterion for choosing the winners is the sympathy of consumers. Throughout the year, leading research agencies compare sales in various market segments. The leaders of the rating are recognized as winners and are awarded the honorary badge "Product of the Year" - a figurine made in the form of a five-pointed star. One of the partners of the Award, marketing agency DSM Group, is responsible for evaluating the pharmaceutical market.